Cats played in Berlin from 20th October 2002 - 30th January 2004.
After Hamburg and Stuttgart, Berlin was the third German production of the show. The costumes were developed from the Hamburg/Stuttgart designs and began to show UK design influences, while they used the UK designs for the wigs and make-up. For Berlin, the show was retranslated by Michael Kunze (who wrote the 80's Vienna translation) and the score as well as the choreography was updated and very similar to the final London version. Berlin was the first German version to include Electra. It was the first German production that had Chrissie Cartwright as Associate Director.
Berlin used the NAP 15 set, which had already been used in Antwerp (Belgium) and Stuttgart before.
It was not the first time Cats played in Berlin. The 1987 Vienna cast previously performed at the Komische Oper in East-Berlin as a short guest appearance during the Vienna summer break.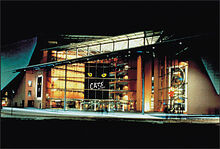 The Berlin cast of Cats played at the
Theater am Potsdamer Platz
which is the venue of the annual Berlin International Film Festival.
Creative team
Edit
Director / Associate Choreographer: Chrissie Cartwright
Choreographer: Gillian Lynne
Assistant Director/Choreographer: Jennifer Sawyer
Music Supervisor: Daniel Bowling
Costume Supervisor: Armin Werner
Make-up Designer: Karen Dawson
Resident Director: Kaye Brown
Dance Captain: Jacqueline Dunnley-Wendt
Assistant Dance Captain: Mark John Richardson
Translation: Michael Kunze
Associate Set Designer: Christoph Weyers (after John Napier; altering an existing set by Raymond Huessy)
Following the closure of the London production in May 2002, several cast members transferred directly into the same roles in this production (John Partridge as Tugger, Benjamin Tyrrell as Misto, Jack Rebaldi as Munkus).
Sillabub - Julia Berger (from Jan 2003)
Munkustrap - Rüdiger Reschke (from April 2003)
Swing - Friedrich Bührer  
Ad blocker interference detected!
Wikia is a free-to-use site that makes money from advertising. We have a modified experience for viewers using ad blockers

Wikia is not accessible if you've made further modifications. Remove the custom ad blocker rule(s) and the page will load as expected.