Cats History
Edit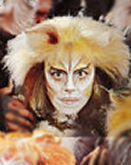 Broadway - 1982 - Jellylorum / Griddlebone
Broadway - 1983 - Jellylorum / Griddlebone
Broadway - 1984 - Jellylorum / Griddlebone
Broadway - 1985 - Jellylorum / Griddlebone
Broadway - 1986 - Jellylorum / Griddlebone
Broadway - 02/1987 - Jellylorum / Griddlebone
Broadway - 1988 - Jellylorum / Griddlebone
Broadway - 01/1989 - Jellylorum / Griddlebone
Broadway - 1990 - Jellylorum / Griddlebone
Broadway - 1991 - Jellylorum / Griddlebone
Broadway - 1992 - Jellylorum / Griddlebone
1982 Biography
Edit
BONNIE SIMMONS (Jellylorum/Griddlebone) returns to Broadway after her triumphant success as Kate that wackiest daughter with the bee-stung lips in The Pirates of Penzance. Ms. Simmons also appeared on Broadway in the revival of The Most Happy Fella. She adds a warm hug to her favorite dog, Gretel.
Ad blocker interference detected!
Wikia is a free-to-use site that makes money from advertising. We have a modified experience for viewers using ad blockers

Wikia is not accessible if you've made further modifications. Remove the custom ad blocker rule(s) and the page will load as expected.