The first Cats Broadway revival opened in summer 2016, produced by The Shubert Organization and Nederlander Organization. Previews began on 14 July 2016 at the Neil Simon Theatre, and opened on 31st July.
The show is developed from the 2014 London revival. Trevor Nunn, the original director, has directed the revival, and the original designs of John Napier are being used. Andy Blankenbuehler has been responsible for controversial new choreography, firmly rooted in Gillian Lynne's original work, however Gillian Lynne has not directly been involved with this production.
Production Specifics
Edit
The previews for this production showed an experimental attitude to the original material, with many small changes to verses, a lot of new choreography blended with the original. "The Old Gumbie Cat" has scrapped the "Beetles' Tattoo", instead the Cats tap dance wearing costumes of hubcaps, and "clean" the stage under her direction. The biggest change is that "Growltiger's Last Stand" has been scrapped altogether, and in its place Gus performs "The Awefull Battle of the Pekes and the Pollicles" (moved from act 1) as Rumpus Cat. This sequence appears to be an acted out performance, involving the tribe, rather than a dream sequence. Other changes from the Palladium production, such as "Street Cat Tugger" and extended moments for Grizabella, have been reversed.
This production has been developed from the London Palladium production, and uses elements of that set labelled NAP 70. The featured costumes have been produced by John Kristiansen, rather than Parsons-Meares who made the original Broadway and US Tour costumes. The Wigs, unitards and warmers were imported from the makers in the UK who worked on the Palladium and UK Tour costumes. The designs are more similar to the Palladium production than the older Broadway style, but certain costumes have been further developed, for instance Jennyanyots' ensemble costume now echoes the spots on her featured costumes.
The Broadway Revival uses a mixture of character names, Sillabub rather than Jemima, Plato rather than Admetus, Tumblebrutus rather than Bill Bailey as with previous US productions, but Carbucketty as well as Pouncival, as in the Palladium production. Additionally, the "basic" ensemble identities for Old Deuteronomy, Asparagus and Tugger have been named Victor, Peter and Bill Bailey respectively.
Telegraph.co.uk - ***, not impressed with Leona Lewis but liked the rest.
Variety.com - Very positive apart from Leona Lewis not being in the same league as Betty Buckley et al.
Guardian.com - ***, Kitsch, dated... yet strangely adorable.
NYTimes.com - Positive but critical of Leona Lewis.
Daily Fail.co.uk - A tedious, clawing mess.
NBCNewyork.com - Complimentary to Leona Lewis.
TheWrap.com - Dated, not updated enough.
Hollywood Reporter.com - "Fans will lick it up", not very different to original.
Vulture.com - "both pretentious and déclassé"
Creative Team
Edit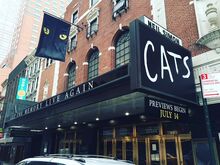 Director: Trevor Nunn
Choreographer: Andy Blankenbuehler
Associate Director & Choreographer: Chrissie Cartwright (recreating Gillian Lynne's original choreography)
Costume & Set Designer: John Napier
Associate Costume Designer: Lisa Zinni
Costume Supervisor: Tracy Stiles
Wigs made by Jenny Dean and Charles Wright
Make-up developed by Karen Dawson and Nancy Powell
Associate Scenic Designer: Alan Walker
Musical Supervisor/Director: Kristen Blodgette
Lighting Designer: Natasha Katz
Sound Designer: Mick Potter
Click here for the Casting Call for this production.
Characters
Edit
Performance Images
Edit
Opening Night 31st July 2016
Edit
Promotional Images
Edit
May 2016 Interview - Andy Blankenbuehler with Broadway Direct
June 2016 Interview - Gillian Lynne and Broadway Revival, The Stage
Ad blocker interference detected!
Wikia is a free-to-use site that makes money from advertising. We have a modified experience for viewers using ad blockers

Wikia is not accessible if you've made further modifications. Remove the custom ad blocker rule(s) and the page will load as expected.