Welcome to the Cats Musical Wiki
The Cats Wiki - All about the Musical Cats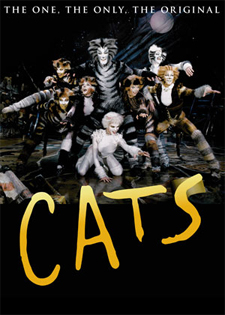 Cats is a musical composed by Andrew Lloyd Webber, based on Old Possum's Book of Practical Cats by T. S. Eliot, and produced by Cameron Mackintosh. The musical tells the story of a tribe of cats called the Jellicles and the night they make what is known as "the Jellicle choice" and decide which cat will ascend to the Heaviside Layer and come back to a new life. Cats also introduced the song standard "Memory".
Directed by Trevor Nunn and choreographed by Gillian Lynne, Cats first opened in the West End in 1981 and then with the same creative team on Broadway in 1982. It won numerous awards, including Best Musical at both the Laurence Olivier Awards and the Tony Awards. The London production ran for twenty-one years and the Broadway production ran for eighteen years, both setting new records. Actresses Elaine Paige and Betty Buckley became particularly associated with the musical. One actress, Marlene Danielle, performed in the Broadway production for its entire run (from 1982 until 2000).
As of 2015, Cats is the third longest-running show in Broadway history and was the longest running Broadway show in history from 1997-2006, surpassed only by The Phantom of the Opera and Chicago. Cats is the fourth longest-running West End musical. It has been performed around the world many times and has been translated into more than 20 languages. In 1998, Cats was turned into a made-for-television film.  The show is licensed for Regional/Amateur productions in the US and for Schools productions in the UK.
The Cats Wiki is a collaborative fan site and has no connection or affiliation with the Really Useful Group or any other profit-making entity. All photographs are copyright and are used without permission. No profit is made from this website. 
Current Productions
Visit our allied wikis for more great musical content.