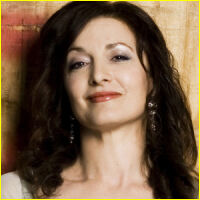 Aus/Asia Tour - 1995 - Grizabella
Circus Tour - 12/1999 - Grizabella
Aus/Asia Tour - 05/2009 - Grizabella
Aus/Asia Tour - 01/2010 - Grizabella
Aus/Asia Tour - 09/2010 - Grizabella
Australia Tour - 09/2015 - Grizabella
One of the leading ladies of her generation, Delia's credits include:
Fantine in Les Miserables (Cameron Mackintosh's original and 10th anniversary productions), Florence in Chess(Australian and N.Z productions), Roxy Hart in Chicago, The Bakers Wife in Into the Woods (Auckland Theatre Company), Anita in West Side Story, Eva Peron in Evita, Annette in Nick Enwright's Beach Blanket Tempest, Miss Santiago in The Buddy Holly Story, Glinda in The Wizard of Oz (GFO) and Mrs Peachum in The Threepenny Opera (Silo).
Delia won the prestigious Sydney Critics Circle Award for her performance as Mrs Johnston in Blood Brothers, and both Mo and Variety Club awards for her performance as Rose Vibert in Aspects of Love, a role she played in Australia and the U.K. At the 2010 Helpmann awards Delia was nominated for Best Actress for her performance as Grizabella in Cats, a role she has performed in three different Australasian touring productions. She has appeared in television and film in Australia and N.Z and has recorded an album called Down Stage Centre with acclaimed pianist, arranger and musical supervisor Michael Tyack.
Delia has also starred in The Music Of Andrew Lloyd Webber (RUG), which toured Australia, New Zealand and Asia in 2011, portrayed the Bird Woman in Disney and Cameron Mackintosh's Mary Poppins 2012 and played Margaret Frankel/Dorothy Richmond in the premiere of The Great Art War for The Court Theatre. Most recently Delia has appeared as Donna Sheridan in Mama Mia for Auckland Music Theatre/Amici Productions, she featured in the Melbourne production of Sondheim On Sondheim (Manilla Street Productions) and as Margaret Lord in High Society for The Hayes Theatre Company.
Gallery
2000
2009
2016