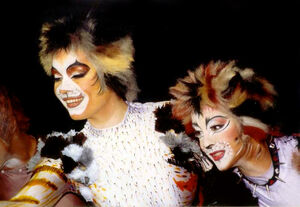 Cats toured Europe extensively in the mid-90s, visiting many cities that had previously hosted a permanent production.  This leads to some confusion as to what was the original production in that city, and what was a tour visit.
Production Specifics
Edit
The production was completely based on the Zurich production from 1991 (which in turn was based on the Amsterdam and Vienna productions). The set, the costumes and many cast members from Zurich continued on to the tour. Many of the actors had been members of the Vienna, Amsterdam and Paris casts before (all these productions were created by the same creative team).
What was special about the Euro Tour, was that the cast had to know the show both in English and German. The German lyrics were based on the Vienna lyrics with some necessary changes. Like in Zurich 1991 and Amsterdam 1992, they used the Original London version of Mungojerrie and Rumpleteazer instead of the Vienna version.
Creative Team
Edit
Associate Director: John Yost (after Gillian Lynne)
Choreographer: Gillian Lynne
Set Designer: Raymond Huessy (after John Napier)
Make-up Designer: Karen Dawson
German Translation: Michael Kunze
Musical Director: Fiz Shapur
Dance Captain: Leslie Wiesner
Tour Dates
Edit
Basel - 01/1994 - 05/1994
Geneva - 06/1994
Graz - 07/1994 
Lausanne - 08/1994 - 09/1994
Bregenz - 09/1994
Zurich - 10/1994 - 01/1995
Bern - 01/1995 - 02/1995
Milan - 03/1995 - 04/1995
Strasbourg - 04/1995 - 05/1995
Klagenfurt - 05/1995 - 07/1995
Graz - 07/1995
Vienna - 08/1995 - 12/1995
Bern - 01/1996 - 02/1996
Zurich - 03/1996 - 05/1996
Geneva, June 1994
Edit
Milan, May 1995
Edit
Vienna, October 1995
Edit
Ad blocker interference detected!
Wikia is a free-to-use site that makes money from advertising. We have a modified experience for viewers using ad blockers

Wikia is not accessible if you've made further modifications. Remove the custom ad blocker rule(s) and the page will load as expected.