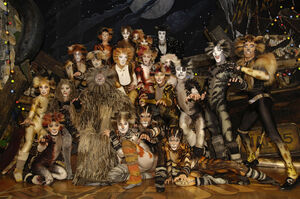 The first German tour of
Cats
ran from 2nd April 2005 until 28th May 2006. Both the premiere and the last show played in Munich. In between, the tour went to four other cities across Germany as well as Basel in Switzerland.
Production Specifics
Edit
The whole tour was a continuation of the Düsseldorf production, which was effectively a very long first engagement of the tour. Cast, set, costumes, makeup designs, etc. were transfered from Düsseldorf. The score (the reworked score of the 3rd UK Tour) also remained the same.
Tour Dates
Edit
City, Country
Venue
Start
End
Munich, Germany
Deutsches Theater
2 Apr 2005
29 May 2005
Bremen, Germany
Musical-Theater
2 June 2005
10 July 2005
Dresden, Germany
International Congress Center
15 July 2005
14 Aug 2005
Hannover, Germany
Theater am Aegi
19 Aug 2005
25 Sep 2005
Basel, Switzerland
Musical Theater

1 Oct 2005

27 Jan 2006

15 Jan 2006

25 Feb 2006

Leipzig, Germany
Kohlrabizirkus
4 Mar 2006
2 Apr 2006
Munich, Germany
Deutsches Theater
7 Apr 2006
28 May 2006
March 2005
Edit
Replacements
Swing - LaSinga Koloamatangi (from May 05)
Bustopher - Hardy Rudolz (from May 05)
Bombalurina - Carien Keizer (from July 05)
Swing - Pepe Munoz (from July 05)
Alt Deuteronimus ~ Anton Rattinger (from Oct 05)
Munkustrap ~ Jack Rebaldi (from Oct 05)
Skimbleshanks ~ Nils Sundberg (u/s Munkus; from Dec 05)
Swing - Michael Knese (from Feb 06)
Swing - Anton Perez (from Feb 06)
March 2006
Edit
3rd March - 28th May 2006
Ad blocker interference detected!
Wikia is a free-to-use site that makes money from advertising. We have a modified experience for viewers using ad blockers

Wikia is not accessible if you've made further modifications. Remove the custom ad blocker rule(s) and the page will load as expected.