Cats had its German premiere in Hamburg on 11th April 1986. It played there for almost 15 years, closing on 28 January 2001. Cats was the first commercial musical production in Germany, followed by shows like The Phantom of the Opera and Starlight Express.
Production Specifics
The Hamburg production was loosely based on the Australian production which was created by the same team in 1985, not the comparatively local German-language Vienna Production. The costumes had their own version of John Napier's original design; Alonzo's costume was brown and black and Sillabub's costume was golden (it became red/purple soon after the release of the video). Also the make-up and wig designs were completely unique.
The Hamburg version of the show was much brighter and more cheerful than the productions in London and Vienna. The size of the cast (22 cats) and the names of the cats (Sillabub, Pouncival, Tumblebrutus, Genghis/Dschingis) were based on the Broadway production. Although there had already been a translation by Michael Kunze for the 1983 Vienna production of the show, the whole musical was re-translated because of copyright reasons.
Hamburg used the HH Nap 9 set that was designed to fit this particular theatre.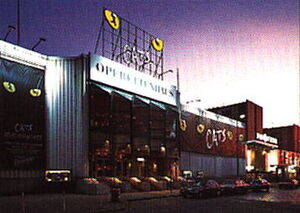 The Theatre
Cats played at the Operettenhaus in Hamburg. Cats was the first success in this theatre after a long time. After Cats closed in 2001, the theatre was extensively re-modelled.
Creative Team
Director: David Taylor (after Trevor Nunn)
Choreographer: Jo-Anne Robinson (after Gillian Lynne)
Assistant to Jo-Anne Robinson: Lynnda Curry
Musical Supervisor: Stanley Lebowsky
Artistic Director: Sabine Grohmann
Resident Director: Terry Robinson
Musical Director: John Baer
Translation: Sabine Grohmann, John Baer, Marc Henning
Costume Supervisor: Alison Todd
Videos
Original Cast
Gallery
Original Cast
August 1991