Cast lists from the London production of Cats - 1981 - 2002 The London production generally offered six month contracts, resulting in frequent cast changes.
May 1981
Edit
January 1982
Edit
Quaxo / Mistoffelees - Graham Fletcher
Kitten - Chris Beeching
May 1982
Edit
November 1982
Edit
Bombalurina - Beverley Kay
Demeter - Jayne Draper
Electra - Sally Dewhurst
Etcetera - Julie Horner
Mungojerrie - Richard Pettyfer
Quaxo / Mistoffelees - Miguel Godreau
Skimbleshanks - Kenn Wells
Feb 1983
Edit
Alonzo - Roland Alexander
Jemima - Julie Horner (Etcetera cut)
Jennyanydots - Ann Emery
Quaxo / Mistoffelees - Kim Reeder
September 1983
Edit
December 1983
Edit
July 1984
Edit
May 1985
Edit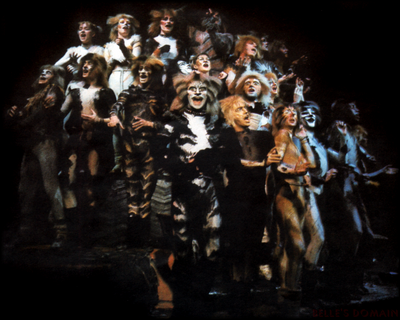 August 1985
Edit
Coricopat - Simon Marlow
Etcetera - Fiona Alexandra
Jemima - Tessa Pritchard
Mistoffelees - Graham Fletcher
Rumpleteaser - Cathy Cordez
Skimbleshanks - Jon Peterson
Swing - Michael Reinhard
March 1986
Edit
February 1987
Edit
June 1987
Edit
Bombalurina - Heather Robbins
Carbucketty - Douglas Howes
Demeter - Linda Mae Brewer
Jennyanydots - Kim Winfield
Swings: Peter Johnston, Duncan MacVicar, Liz Love
August 1988
Edit
December 1989
Edit
February 1990
Edit
November 1991
Edit
May 1992
Edit
November 1992
Edit
May 1993
Edit
November 1993
Edit
June 1994
Edit
August 1994
Edit
Asparagus - Tony Timberlake
November 1994
Edit
April 1995
Edit
October 1995
Edit
November 1995
Edit
July 1996
Edit
October 1996
Edit
December 1996
Edit
Skimbleshanks - Jon Peterson
Swing - Brenda Jane Newhouse
October 1997
Edit
Around the time the Cats Film was recorded.
December 1997: Helen Baker
June 1998
Edit
Ulrika Butt, Michael Cantwell, Veerle Casteleyn, Chris Crompton, Suzanne Heyne, Sascha Kane, Patrick Kiens, Jeroen Mosselman, Nick Pound, Beth Robson, Annalisa Rossi, Nick Searle, Spencer Stafford, Sally-Anne Triplett, Agnes Vandrepote, Michael Verkoren, Francesco D'Astici, Sarah Graham, Kate Hamilton, Helen Baker, Catrin Darnell, Nigel Garton, Tee Jaye, Nina Radetic, Jean-Luc Rebaldi, Richard Raynard, Sarah Soetaert, Clifford Stein, Sally Taylor, Steven Wayne and Andrew Wright.
September 1998
Edit
Incomplete cast list
July 1999
Edit
January 2000
Edit
April 2000
Edit
May 2001
Edit
October 2001
Edit
February 2002
Edit
Jellylorum - Louisa Shaw
Asparagus -
Gareth Snook
References
Edit
Thanks to: www.jellicledancers.com, castlists.victoriagrove.de/
Ad blocker interference detected!
Wikia is a free-to-use site that makes money from advertising. We have a modified experience for viewers using ad blockers

Wikia is not accessible if you've made further modifications. Remove the custom ad blocker rule(s) and the page will load as expected.