Michael Gruber performed the roles of Munkustrap in Cats film 1998 and Cats at Winter Garden Theatre, New York City 1996-1999.
Michael Gruber is an American actor, who graduated from Indian Hill High School in 1982 and attended the University of Michigan on an athletic scholarship.
He studied theatre at the University of Cincinnati College-Conservatory of Music, and made his Broadway debut in the final company of A Chorus Line, 1989-1990.
Michael, with collaborator Jennifer Allen, is the composer of three musicals: The Old Dead Five (formerly Hypatia), Hit It, Mike!, and Vegas Organic. Michael has also composed music for several poems. Two of these were performed at a Valentine's Day (2006) concert sponsored by New Voices Collective at Symphony Space in New York City.
Cats History
Edit
Broadway - 1997 - Munkustrap
Cats: the Movie - 09/1997 - Munkustrap
Broadway - 1998 - Munkustrap
Broadway - 1999 - Munkustrap
1987 - My One and Only - Paper Mill Playhouse
1988 - West Side Story - European Tour
1988 - Dreamgirls - Elmford (NY) Dinner Theatre
1988 - Joseph and the Amazing Technicolor Dreamcoat - Alaska Light Opera, Anchorage
1989-1990 - A Chorus Line - final company - Shubert Theatre, New York City
1990 - West Side Story - nation tour
1997-1994 - Miss Saigon - original company - Broadway Theatre, New York City
1992 - Singin' in the Rain - Music Theatre of Wichita
1993 - My Favorite Year - Vivian Beaumont Theatre, New York City
1993 - Singin' in the Rain - California Musical Theatre
1993 - Anything Goes - Music Theatre of Wichita
1993 - Little Me - Birmingham Theatre, Birmingham, MI
1994 - Kiss Me Kate - Goodspeed Opera House
1994 - Singin' in the Rain - Paper Mill Playhouse
1994 - Songbook - Arts and Artists at St. Paul's/National Music Theater Network, New York City
1995 - Oklahoma! - Arizona Theatre Company, Tueson and Phoenix
1995 - West Side Story - The Muny Theatre , St. Louis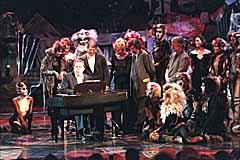 1996-1999 - Cats - Winter Garden Theatre, New York City
1997 - Wizard of Oz - The Theatre at Madison Square Garden
1997 - filming of Cats video - Adelphi Theatre, London
1998 - Follies - Paper Mill Playhouse
1999 - Tommy - concert tour
1999 - Floyd's Follies - Paper Mill Playhouse
1999-2000 - Swing! - St. James Theatre, New York City
2000 - Symposium on theatre at SUNY's Stony Brook campus
2000 - Singin' in the Rain - Music Theatre of Wichita
2000 - Rags - Walnut Street Theatre, Philadelphia
2001 - Red Hot and Blue - Paper Mill Playhouse
2002 - Dames at Sea - Goodspeed Opera House
2002 - Smokey Joe's Cafe - California Musical Theatre
2003 - Anything Goes - Riverside Theatre, FL
2003 - Crazy for you - Marian Theatre and Solvang Festival, CA
2003 - Laughing Room Only - Brooks Atkins Theatre, New York City
2004 - Anything Goes - Avon Theatre, Stratford, ON
2005 - And Then I Wrote... - Birdland Jazz Club, New York City
2006 - Guys and Dolls - Maltz Jupiter Theatre, FL
2006 - Godspell - Walnut Street Theatre, Philadelphia
2006 - My One and Only - Reprise Concert, Westwood, CA
2007 - Stairway to Paradise - New York City
2007-2008 - A Chorus Line - Schoenfeld Theatre, New York City
2009 - Singin' in the Rain - Ordway Center for the Performing Arts, St. Paul, MN
2009 - A Chorus Line National and International tour
2010 - Hits from the Music Man, Seattle Symphony - Benaroya Hall, Seattle, WA
2010 - Hairspray - TUTS, Houston, TX
2011 - Jesus Christ Superstar - Chanhassen Dinner Theatre, Chanhassen, MN
2012 - Roman Holiday - The Guthrie Theatre, Minneapolis, MN
2012-2013 - Bye Bye Birdie - Chanhassen Dinner Theatre, Chanhassen, MN
2013-2014 - Fiddler on the Roof - Chanhassen Dinner Theatre, Chanhassen, MN
Interview
Edit
"Cats Longevity" aired February 1 and 2, 1999
Richard Ridge, interviewer :
Why do you think "Cats" has a longevity and is such a universal show?
Michael:
Yeah, I think it's because there's no language barrier. I think being around for the last year of "A Chorus Line" and seeing that, and "A Chorus Line" being a much more literate show, as far as, you know, being a Pulitzer Prize winning book, and- right? it won the Pulitzer? yeah -and I think this show has an appeal to tourists and foreign tourists who come into New York and they can get the idea of the show without understanding English. And so I think that's one aspect. And on the other hand, it's for children and families. And a lot of people will bring their families, and it becomes, maybe, an annual event where they'll come. And I think that's why the show sort of continues to run, and may run forever, who knows, because, especially with the video, which seems to have made people, brought it into people's homes and now, it's odd, but it seems to be the response is that people now want to see it live, instead of what they thought might have happened, is that it might close the show, because everyone would say "oh, we can rent the video, why go see it?", but it seems to have had this kind of odd opposite reaction where people are, like, "Wow! I want to see that live now", you know, and kids will see it and say "oh, I want to go", like my nieces and nephews are all, like, "I want to go now and see it live and in New York". So, maybe that's the reason it's had such a long and profitable run.
Richard:
The other amazing thing about your show is when shows start to get into a long run, they start to fall apart. Costumes start to get shoddy, the sets, the shows aren't kept up. Your show is as tight now as it was when it opened. Who does that?
Michael:
Well, we have a great staff, you know, great stage managers, a great dance captain. Gillian is present; at least twice a year she'll come in and work with the company. I think that's probably one of the most important things, because you get the source coming in. Even though Trevor is really no longer involved, Gillian really does care, and she really will come in and work with a new cast, because they do turn over a lot, and you do have, like even in the 10 months since I was away and come back, I would say almost half of a new company, if not more so. So, it's great that they, the people who maintain it, care enough to really have an integrity and to keep the show fresh.
Richard:
Well, tell me how long it takes you to prepare for a performance of "Cats".
Michael:
Well, I usually, it takes 45 minutes, about, for me. Some people can do it, it takes me a long time to do the make-up. Some people are incredibly fast with it, and can, like, put it on and it looks brilliant in record time. For me, it takes me a little longer, I don't know why. So, it takes me about 30 to 35, 40 minutes to put my make-up on, and then to warm up and get ready to, you know, do the show. So I usually get here a quarter of, no later than 7, and begin the ritual. (laughs)
Richard:
So, at what point during the make-up preparation does the character start to evolve in your mind?
Michael:
I think when I start lining. I mean, there's a whole base sort of thing, but when the lines start to come in, there's certain things like the nose and the mouth, shaping of the mouth, that is when the felinity really starts to come in, and I kind of, I try to really - not to make it seem overly important - but, it really, I try to be very thoughtful about trying to make a sort of a statement with, and be thoughtful about how I put my make-up on. And I enjoy it, it's exciting to me. So I don't mind spending 35 or 40 minutes a day doing it, it's fun.
(During this last part, Michael has been putting on his make-up. When he's finished, he puts his wig on.)
Michael:
The mic goes up through the wig, but, you know, the mic's hid, so...
Michael's looking at his reflection with a straight face, then he smiles and wiggles his eyebrows, and says, "It's kind of amazing. I'm all set!."
"It is sort of the signature of my career."
- concerning Cats (film), said Michael Gruber.
"In the demanding role of Munkustrap, Michael Gruber delivers an astonishing performance, as his pleasant tenor voice narrates and frames the story."
- Allsands
It was my first New York audition. I'm not a dynamic auditioner. In fact, it was how I got my agent. They almost didn't hire me because they thought I didn't sing well enough. I can say that Gillian Lynne(Associate Director and Choreographer) told me that of all the people she worked with, Steve Barton and I were the best Munkustraps. I do feel that I did master that role. As difficult as that show was, it was a great experience.
There is a lot of joy going out on the stage. I want to remain open-mined instead of being angry or frustrated....It is always about the work. That is where the joy comes from. If I can keep that straight, I will have good experiences.
I also love the immediate gratification I get from a live audience. For me, the best thing about what I do is being able to make people feel good and maybe go away with some sort of message.
Every actor wants to be in the hot new thing, and it's easy to get into that toxic mindset of `What's this doing for my career? Who cares about this show that's been open for 15 years?' I take a breath and remind myself that I have a great job. I've grown as an artist doing Cats, and that's all that matters.
I'm now trying to let go of controlling my life and where it goes. I want to allow my life to flow in a way that surprises me.
Success can't be defined by fame.
For me, success is defined by the wonderful moment you learn something about yourself or you realize you did something you didn't think you could do before.
In retrospect, my life has been fairly easy and the transitions relatively easy as well. I am no big overnight success but instead I've worked my way up. I always try to reinvent myself with each role I get.
As a teenager, Michael Gruber was a professional diver. When Michael was only 14, he was ranked second in the world.
He has two older sisters and one older brother. He is the only member of his family who is an actor and singer.
He considers the Cats video to be the signature of his career.
He is often compared to Gene Kelly in his performances. They both have played Don Lockwood in Singin' in the Rain.
He studied with the same dance teacher as Madonna in college.
While performing in the final company of A Chorus Line on Broadway, he tore a stomach muscle when performing an acrobatic stunt. Because of the injury, Michael had to take a break for two weeks. When he returned to the show, he didn't miss a performance for the next six months.
He played Mike Cass in the final company of a Chorus Line on Broadway. At his final performance after he sang "I Can Do That", the audience applauded for over a minute.
He was also playing the role of Munkustrap in Cats when it broke the record for the longest running show on Broadway.
While filming the Cats video in London, he had dinner with Andrew Lloyd Webber and Sarah Brightman who encouraged him to keep writing.
His great aunt was an opera singer.
His parents still live in the same house he grew up in as a child and teenager in Cincinatti.
Ad blocker interference detected!
Wikia is a free-to-use site that makes money from advertising. We have a modified experience for viewers using ad blockers

Wikia is not accessible if you've made further modifications. Remove the custom ad blocker rule(s) and the page will load as expected.