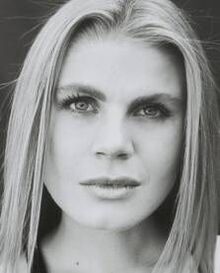 Aus/Asia Tour - 01/2007 - 2010 - Bombalurina
Monique has the distinction on the Australasian tour of playing Bombalurina for the entire four year run.
Biography
A graduate of the Western Australian Academy of Performing Arts (WAAPA, 2002) and Melbourne's National Theatre Drama School (1999), Monique has worked in theatre, television, film and corporate events as an actor, singer and dancer. Music theatre credits include a New York production of Into The Woods (Cinderella), Camelot (Nimue), Nostradamus, Hello Again (Young Wife), After Dinner (Paula), Love Equals (Emilie du Chatelet), Barbie - the magic of Pegasus (Cloud Queen), Rebecca - the musical (Mrs De Winter), South Pacific, They're Playing Our Song, and RUC's Joseph & The Amazing Technicolor Dreamcoat. Monique's television/film credits include State Coroner, Japanese Story, Nigel and Dead End. In 2007 Monique received a Green Room Award nomination for Best Female In A Featured Role.
Gallery
2007
2009
2010
Links
Interview - Perth Now Sunday Times, 3rd April 2010