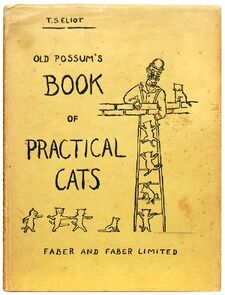 Old Possum's Book of Practical Cats
is a collection of whimsical
poems
by
T. S. Eliot
about
feline
psychology
and
sociology
. Old Possum's Book of Practical Cats is the inspiration for the musical. Most of the songs from the musical can be found in their entirety in the book, with slight changes in tense and pronoun to suit the staging.
Poems Included
Edit
"Grizabella, the Glamour Cat" was not included in the book of whimsical children's poetry, as the author considered it to be too sad.
Ad blocker interference detected!
Wikia is a free-to-use site that makes money from advertising. We have a modified experience for viewers using ad blockers

Wikia is not accessible if you've made further modifications. Remove the custom ad blocker rule(s) and the page will load as expected.