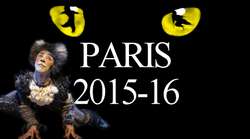 Cats opened at the Mogador Theatre, Paris on 1st October 2015 (after 10 previews) and closed on 3rd July 2016.
[1]
This was the second permanent Cats production in France, the first being in
1989
. The two productions used completely different adaptations of the song lyrics, and some cats had different names.
Production Specifics
The production follows the London Palladium production, with the Street Cat Tugger and new material. Unlike the Palladium, this production has cut the named role Carbucketty, choosing to use the name Pouncival for the kitten. Further, Pouncival is the alternate Mistoffelees. The set is a replica of the London Palladium set, even to the exact details of the car number plate reading "NAP 70/ GRITTY KITTY GB"
Creative Team
Director: Trevor Nunn
Choreography: Gillian Lynne
Gumbie Tap choreography: Bill Deamer
Associate Director & Choreographer: Chrissie Cartwright
Assistant to Chrissie Cartwright: Ryan Gover
Costume and Scenic Design: John Napier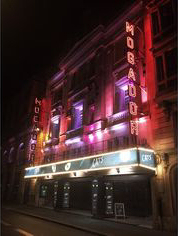 Makeup Design: Karen Dawson
Associate Scenic Design: Alan Walker
Lighting Design: Howard Eaton
Sound Designer: Greg Pink
Music Supervisor: Graham Hurman
Resident Director: Véronique Bandelier
Theatre
The Mogador Theatre is owned by Stage Entertainment. It was home to the French production of "Tanz der Vampire" prior to Cats' arrival. Cats closed to make way for the 30th anniversary production of "The Phantom of the Opera", however the theatre suffered a devastating fire which caused the production to be cancelled. [2]
Cast
The production starred Prisca Demarez as Grizabella [3] (except for a month during which Chimène Badi took her place for publicity purposes [4]).
The London Revival cast performed at the press launch on 28th April 2015, immediately following the closure of the Palladium production. The cast were gradually announced via the production's Facebook Page.
Gallery
References