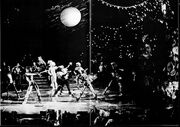 Cats had its Austrian premiere on 24 September 1983 at the Theater an der Wien. It was the third replica production worldwide and the first time that Cats was performed in another language than English. Gillian Lynne both directed and choreographed the show and Michael Kunze wrote the first German translation of Cats. Later productions that were based on the Vienna production include Amsterdam and Paris.
Production Specifics
Edit
The Vienna production was the first time that the show took place on a usual stage (behind a proscenium arch) instead of being performed on a round stage with the audience around it as it was done in London and on Broadway. Therefore, Gillian Lynne had to restage the show. In the following years, due to conventional theatres, most productions were placed on a pros-arch.
Compared to the Original London and Broadway casts, the Vienna cast was rather large: it included both Carbucketty and Pouncival, Bill Bailey and Tumblebrutus, Quaxo and Mistoffelees as well as Etcetera (whose costume actually looked similar to the London Electra). In general the names used were not translated, apart from Jenny Fleckenreich and Alt Deuteronimus, and spellings for Viktoria and Jellilorum.
Unlike in the London and Broadway productions, Mistoffelees was a mute character. He didn't sing or speak any line in the whole show; not even in the ensemble numbers. This allows the role to be cast as a dedicated dancing role, not Musical Theatre. As a result to this, Mungojerrie and Rumpleteazer performed the number of the same names Mistoffelees's way this time (as it was from the Broadway production). This concept was later transferred to productions like Amsterdam, Paris, Zurich, Asia/Pacific Tour and others.
Another unusual element was that Griddlebone was played by Jennyanydots, not Jellylorum.
1983 - 1988: Vienna, Theater an der Wien
1987: East-Berlin, Komische Oper (Guest appearance)
1988: Moscow (Guest appearance)
1988-1990: Vienna, Ronacher Theater
The production opened in 1983 at the Theater an der Wien. While the show was settled in Vienna, the cast had guest appearances in East-Berlin in 1987 and in Moscow in 1988 during the Vienna summer breaks. In 1988, Cats moved to the Ronacher Theater in Vienna before it closed in 1990. With a runtime of 7 years, Cats remains the longest running musical in Vienna this day.
Creative Team
Edit
Director / Choreographer: Gillian Lynne
Artistic Consultant: Trevor Nunn
Assistant to Gillian Lynne: Jo-Anne Robinson
Costume & Set Designer: John Napier
Dance Captain (1983): Steve Barton
Resident Director: John Yost
Costume Supervisor: Alison Todd
Director of the theatre: Peter Weck
Translation: Michael Kunze
September 1983
Edit
| Role | Cast |
| --- | --- |
| Alonzo /Rumpus-Cat | Darryl Robinson (cover Munkustrap) |
| Asparagus / Bustopher Jones | Gene Scheer |
| Bill Bailey | Otto Scholtze (cover Carbucketty) |
| Bombalurina | Joanie O' Neill |
| Carbucketty | Laszlo Czergezan  |
| Cassandra | Laura Edmunds |
| Coricopat | Matthew Jessner (cover Alonzo/Rumpus) |
| Demeter | Katherine Condit |
| Etcetera | Pamela Liebig (cover Bombalurina, Rumpleteazer) |
| Grizabella | Angelika Milster  |
| Jellylorum | Suzanne Henderson (cover Grizabella) |
| Jemima | Elisabeth Meller (cover Jellylorum) |
| Jennyanydots / Griddlebone | Valda Aviks  |
| Mr. Mistoffelees | Valentin Baraian  |
| Mungojerrie | Andrew Morris |
| Munkustrap | Paul Welterlen (cover Bustopher/Gus/Growltiger, Plato/Macavity) |
| Old Deuteronomy | Gordon Bovinet  |
| Plato / Macavity | Stanley Dalton  |
| Pouncival | James Cohen (cover Mistoffelees) |
| Quaxo | Michael P Reardon |
| Rumpelteazer | Beatrix Wipperich (cover Bombalurina, Etcetera) |
| Rum Tum Tugger | Michael O'Connor  |
| Skimbleshanks | Michael Estes (cover Mungojerrie, Quaxo) |
| Tantomile | Elizabeth Mills (cover Victoria, Cassandra) |
| Tumblebrutus | Tracy Inman  |
| Victoria | Alexandra Young (cover Jemima) |
| Swing | Niki Bolen (cover Carbucketty, Tumblebrutus) |
| Swing | Danielle Brunner (cover Demeter, Victoria, Cassandra) |
| Swing | Ferdinando Chefalo (cover Pouncival) |
| Swing | Tito Hernandez (cover Mungojerrie, Coricopat) |
| Swing | Janet Hinckley (cover Jemima, Etcetera, Tantomile) |
| Swing | Gregory Garrison (cover Skimbleshanks, Plato/Macavity) |
| Swing | Gregory McKinnon (cover Coricopat) |
| Swing | Pam Lloyd (cover Jennyanydots/Griddlebone) |
| Swing | Frances O'Neill (cover Etcetera, Tantomile) |
| Swing | Isabelle Scheizer-Paterson (cover Etcetera) |
| Swing | Sandor Racz (cover Plato/Macavity, Alonzo/Rumpus, Tumblebrutus) |
| Swing | Andrea Schalk (cover Carbucketty, Bill Bailey) |
| Swing | Randy Scott (cover Quaxo) |
| Swing | Ken-Michael Stafford (cover Old Deuteronomy, Gus/Bustopher/Growltiger) |
| Swing | Iris Wachalowsky (cover Demeter, Bombalurina, Cassandra) |
| Swing | Dean Welterlen (cover Tugger) |
Ad blocker interference detected!
Wikia is a free-to-use site that makes money from advertising. We have a modified experience for viewers using ad blockers

Wikia is not accessible if you've made further modifications. Remove the custom ad blocker rule(s) and the page will load as expected.