Cats played at the ABB Music Theatre in Zurich, Switzerland from August 1991 to December 1993. Immediately after closing in Zurich, the production became the 1994 European Tour, taking the set, production properties, and many of the cast on the road.
Production Specifics
Edit
The Zurich production was a descendant of the Vienna production, meaning that, amongst other changes, Griddlebone was played by Jennyanydots rather than Jellylorum. Jemima is credited as playing Quaxo - this is nothing to do with Mistoffelees, rather "Quaxo" is the name of the lead tap-dancing Beetle in Gumbie Cat. The original choreography had an extended tap routine for Quaxo, making the role as prominent as Genghis the lead Siamese Cat, or Rumpus Cat.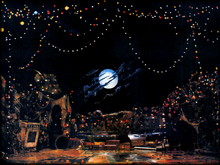 Production Credits
Edit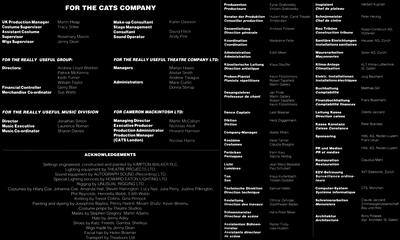 August 1991
Edit
March 1992
Edit
Mistoffelees - Lindsay Chambers
Pouncival - T J Hee
Swings - Richard Bigelow, Bruce Harris, Meike Staring
April 1992
Edit
(swings not listed - possibly cast for one specific performance)
May 1992
Edit
(swings not listed - possibly the cast for one specific performance)
 ?? - December 1993
Edit
Ad blocker interference detected!
Wikia is a free-to-use site that makes money from advertising. We have a modified experience for viewers using ad blockers

Wikia is not accessible if you've made further modifications. Remove the custom ad blocker rule(s) and the page will load as expected.